(Also called #bandlife) Is a webserries about their life on the Bandlife Tour.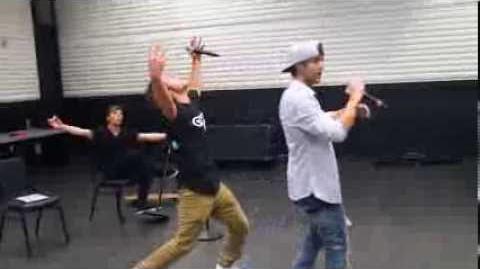 There are a total of 9 episodes. Covering every city of the tour.
Episode 1: Texas
Episode 2: Mineapolis, Milauwkee and Chicago.
Epsiode 3: Indy and Montreal
Episode 4: Toronto and Philly
Episode 5; CT, Boston, NYC, and NJ
Epsidoe 6: Maryland and Goergia
Epsiode 7: Charlotte and Florida
Epsidoe 8; KC, Nashville, and Anaheim
Episode 9: San Jose, Tempe, Los Angeles
Episode 3 was taken down because of it not meeting managments standards on a "clean boyband image". It contained clips of the boys bringning girls to their buses and partying with them.
Keaton was in the episodes the least.
Fans were angered over the short legnths of the episodes and this resulted in longer episodes overtime.
The Bandlife logo was chosen in a competition between the fans on social media. The logo with the most 'likes' 'favs' or 'retweets' won.