Chloe (You're the One I Want)
" is the debut single of American pop rock trio Emblem3 from their first studio album
Nothing to Lose
. which was released July 30, 2013. It was their first single after placing fourth on the Second season of The X factor and after signing on Simon Cowell's Syco It was released digitally on April 15, 2013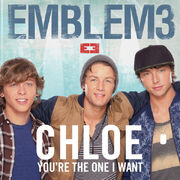 through Syco and 
Columbia Records
.
Music Video
Edit
On May 8, 2013, the official Lyric Video was uploaded on the group's VEVO channel. A series of video countdown teasers and trailers preceded the video premiere. The song's official music video premiered on the group's VEVO channel on May 18, 2013. The video was directed by Ray Kay. The video starts with Keaton playing the guitar and then the boys backstage. Then there are various scenes with cliques of popular girls, gossiping and mocking the less popular girls. Many of the other girls feel insecure, but their moods improve when they receive a white pin with red lettering that says "I'm a Chloe @EmblemThree." This signifies that they are the kind of girls Emblem3 likes, and thay they have been invited to a special Emblem3 concert. The pins are passed girl by girl and towards the end there are hundreds of fans holding up their Chloe pins at a concert in order to gain entry. Meanwhile, a group of so-called popular girls who did not receive pins are not let in so they storm off, while the girls with pins are permitted to enter the concert. Then, Emblem3 performs on stage, singing and dancing during a performance of Chloe. The video ends with Emblem3 allowing their fans on stage to dance with them.
Chart performance
Edit
The song has sold over 35,000 digital downloads in its first two weeks in the United States and over 200,000 downloads as of August 1, 2013 It made them the second best charting X Factor US act by having a single to chart the Billboard Hot 100.
Live performances
Edit
The trio performed Chloe for their summer tour. On June 7, 2013, along with Little Mix Emblem3 performed their single on ABC's Good Morning America .On July 29, 2013, the group made an guest appearance to perform the song on ABC's The View.