Keaton Robert Stromberg 
(born July 16, 1996) his brother, Wesley Trent Stromberg, is also member of
Emblem3, along with Drew Chadwick. 
He performed as a choir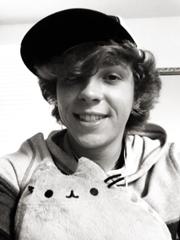 singer at Carnegie Hall at the age of 14. He is the son of Grammy-nominated producer William Stromberg and has a brother named Wesley and two sisters, Brooke and Brianna.
Keaton Robert Stromberg was born July 16, 1996 in Tarzana, California. The date is significant because the family was hoping he would be born on his uncle Robert's birthday. Robert Stromberg is a multi-Academy award winning art director for the films "Avatar", "OZ the Great and Powerful" and "Alice in Wonderland". The Stromberg lineage runs deep in the entertainment industry. Father, William Stromberg, is a film composer with two Grammy nominations. Keaton gets his musical talent from both sides of his family with his mother, Laraine Claire who is a professional harpist and composer. Keaton began with the piano at 6, then picked up the guitar and bass when playing music with his older brother, Wesley. As the kid whose house was always rocking with music, after school Keaton would bring home friends for impromptu concerts.
In between summers spent at the Sequim skate park and winters snowboarding at Hurricane Ridge, Keaton would record music for hours on his Mac computer, learning all the newest LogicPro technology. In school, Keaton sang in select choir and at 14 was invited to perform at Carnegie Hall. By 15, it became evident he was going to pursue a career in music and made the hard decision to leave his hometown and move to California with his brother, Wesley. The family packed up and landed in Huntington Beach. It was hard to make friends at first, but the time alone was spent recording new music with Wes and Drew. On breaks they would hit the beach, surf until sunset, then get back to recording again. Keaton does independent study to fit schoolwork in with his Emblem3 performing schedule.