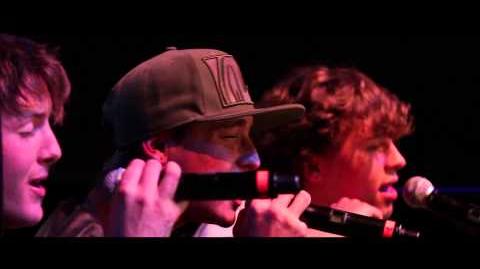 Emblem3 has been on many tours since comming off of X Factor
West Coast Tour (2013)
Edit
Mainly shows in California. This includes their first show since X Factor at The Roxy.
The Roxy in LA
The Glass House in Ponoma
House of Blues in San Diego
E3 Goes East Tour (2013)
Edit
Emblem3 visited a few shows on the East Coast such as New York.
Going Back To Cali (2013)
Edit
This tour had more dates than the first two tours combined. They also recorded this journey and can be found on their YouTube channel.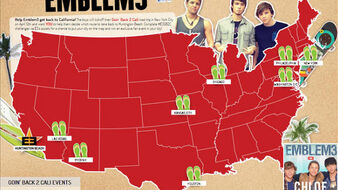 New York
Philadelphia
Washinton DC
Chicago
Kansas City
Houston
Phoenix
Las Vegas
CD Singnings
Edit
Once their Album came out, they traveled around the counrty to conduct CD signings
Stars Dance Tour (2013)
Edit
Emblem3 was invited to be an oppening act with Selena Gomez on her Stars Dance Tour. This is the first time the boys played arenas.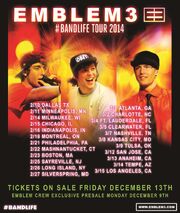 This tour was announced on The X Factor (USA) the night they pefromed as a musical guest. It was their first headlining tour. They brought their friends from Washington State, Ted, Ryan and Jack McColl to flim the show for their webseries #bandlife. They also made another webseries called #E3TV.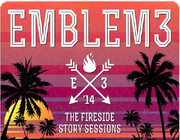 The tour was announced Tuesday June 3rd. It was Emblem3's second tour in 2014. It showcased their songs from Songs From the Couch, Nothing To Lose, and new songs. It was their first tour since parting ways with their old label, Syco. It is also their first tour without  Drew Chadwick. It started on June 23th and ended on August 8th.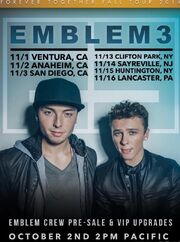 The tour was announced Thursday October 2nd. It had 7 stops in 4 states. Pre-sale for the Emblem Crew started the same day and general sale was open on October 4th. It started November 1st and ended November 16.
The tour was announced on Sunday February 14th (Valentine's Day). It was their first international tour, hitting places like Japan and the Philippines. It had 24 tour dates. It started on April 2nd and ended on June 18th. Opening acts included Riot Child, The Ready Set and Megan Nicole.