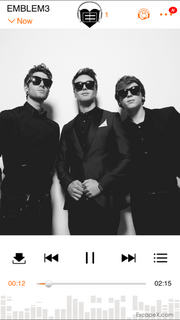 The Waking Up EP was released February 15 via their Emblem3 app. 
It was first released via their Emblem3 app. It can be streamed free offline and online. The app also provides all of the lyrics. 
It was released for download in April 2016 via iTunes and Google Play Store.
Tracklist
Edit
Now
End Of Summer
Taboo Love
Out Of The World
Waking Up
City Lights
This is the first new music they released through their app
This is the first EP made with all 3 members since their breakup in 2014
iPhone users had to wait until February 16th to listen to the EP because the iPhone version of the app was delayed.
Keaton produced all of the songs
Ad blocker interference detected!
Wikia is a free-to-use site that makes money from advertising. We have a modified experience for viewers using ad blockers

Wikia is not accessible if you've made further modifications. Remove the custom ad blocker rule(s) and the page will load as expected.